Japanese calligraphy is an art which embodies the elegance of Japan. In these face-to-face lessons, you can learn how to create art works of calligraphy in English. Make your own calligraphy works in my classroom and take them with you as your own precious souvenirs!
The face-to-face calligraphy experience is available at any time. For those who come in person, you can also take pictures wearing yukata, kimono (Taisho Roman hakama) jinbaori, sword (imitation sword), or armor if you wish. After the calligraphy lesson, you also have the option to enjoy matcha and sweets.
Please feel free to contact us if these options interest you!
Highlights:
Learn how to beautifully write your own name or other words of your choice in Kanji
Create your own art works of calligraphy that you can take home, frame, or give as a gift
Enjoy an immersive experience in learning about Japanese beauty and culture
Learn the basics of calligraphy like Japanese students do
Attune your sense of harmony and balance through creating works of calligraphy
Fee
(including foreigners living in Japan)
¥5000/1.5h per person (solo)
¥4000/1.5h per person (group of 2-4)

Transfer account: Mitsubishi UFJ Bank Koganei Branch
Bank code: 0005 Store number: 223 Account number: 0512851
The transfer fee will be borne by the customer.
Foreign students
$40/1.5h per person (solo)
$35/1.5h per person (group of 2-4)
For overseas customers, please pay from PayPal through Facebook Messenger.
Cancellation policy
Full refund up to 2 days in advance Up to 3 days before the trial date, the refund will be made after deducting the refund fee from the trial price. Cancellations must be made at least 3 days prior to the experience date in local time. For example, if your experience date is June 21st and the time is 18:00, you must cancel by June 18th to receive a full refund. If the experiencer is canceled more than 3 days before the trial reservation date, the trial fee will not be refunded. For cancellation, please contact us via Facebook Messenger.
Please reserve at least 3 days in advance.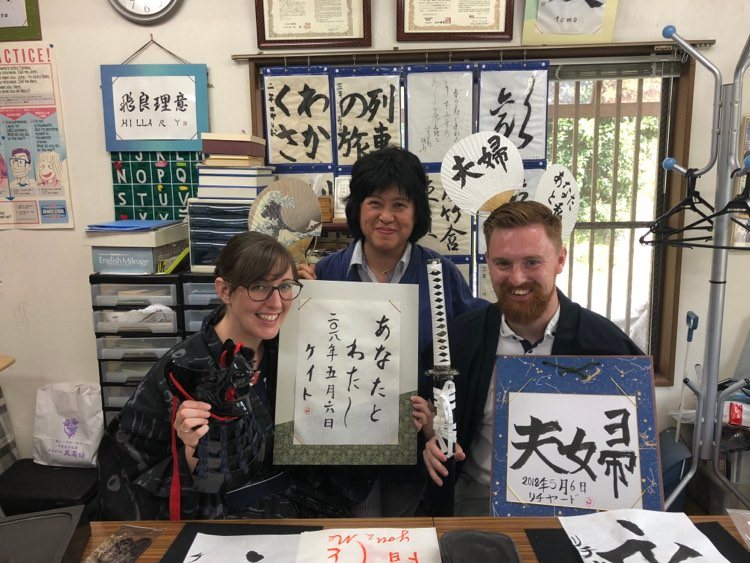 Details:

Green tea is served for free.
Powdered green tea with beautiful sweets: ¥1000

Wearing Jinbaori is free.
Sword rentals (imitation sword) for the photo is free.

Time for dressing Yukata: 30 min

Kimono with Hakama: 45 min

Yukata rental fee: ¥2000

Kimono with Hakama rental fee: ¥4000

Dressing by the staff in Hoyu Calligraphy Academy

Yukata: ¥3000
Kimono with Hakama: ¥4000

If the Hoyu Calligraphy Academy staff is unavailable, we'll take you to a beauty shop nearby.
Please pay at the shop.
Dressing in Yukata: ¥5500
Dressing in Kimono with Hakama: ¥7700
Please feel free to request your hair and makeup to be done for an extra fee.

For lunch, Hoyu will act as a volunteer guide and take you to a nearby restaurant or the nearest supermarket for a bento to eat in the classroom.

Course Guide:
10:30 – 12:00
Calligraphy experience
12:00am – 1:00pm
Lunch
1:00pm –
Dress in Kimono with Hakama, or Yukata
Take photos
Change clothes
Visit Edo-Tokyo Open Air Architectural Museum nearby in Koganei Park